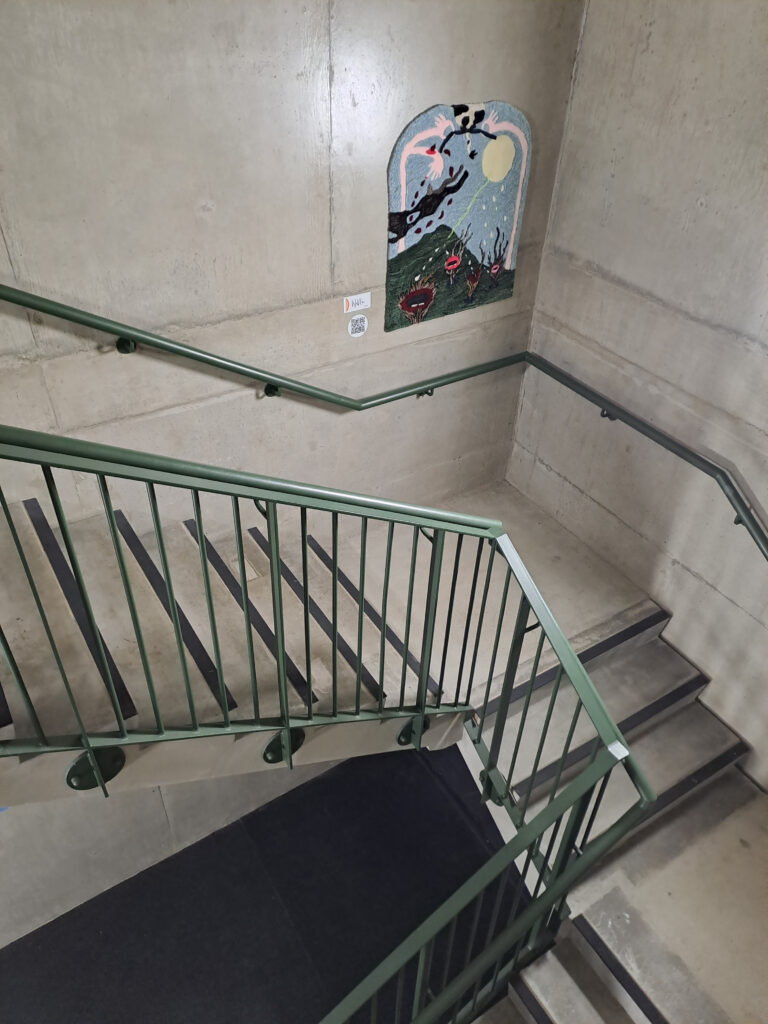 Woven suggests interconnectedness, a complex web of human interactions, meaning and power dynamics within a sensitive ecosystem.  
This multidisciplinary exhibition raises questions about culture, identity, economy and ecology, setting the stage for future innovators at MERITS, a new innovation think space for the Mid-East region.  Using wool and traditional methods of weaving and knotting as a starting point, tradition is presented as a foundation upon which innovation can be built.  It considers a reimagining of cultural identity which recognises that cultural heritage is not static but evolves over time, adapting to changing circumstances and influences.  
Featuring work from Sarah Browne, Niamh Coffey, Basil Al-Rawi, Naimot Ramoni, Kathleen McCormack, Rudi O'Reilly Meehan and a virtual reality experience directed and produced by John Conway, written by Aisling Byrne, with visuals by NOHO Dublin.  Co-curated Paula Barrett, Assistant Arts Officer for Kildare County Council and Lauren O'Reilly, Programme Manager MERITS.  Contributions from Kildare County Council Climate Action and Age Friendly team and Kildare County Council Library and Arts Services. 
DETAILS OF ARTWORKS 
Sarah Browne's film piece from her 2009 project Carpet for the Venice Biennale  is an object that has been produced with very specific cultural and economic conditions.  Browne initiated the revival of a traditional mode of production when she re-employed former employees of the Donegal Carpets factory to make a hand-knotted carpet. This black and white, silent film serves as a document of the carpet's making, and seeks to address the production of nationality by cultural and economic means. Suturing together stills and moving images, the carpets as static entities that exist elsewhere are shown in contrast with the women working within the factory-as-museum.
This film work was acquired by the Kildare County Council Municipal Art Collection along with the accompanying Carpet for the Venice Biennale, a framed letter to Eileen Gray and two framed drawings, One Hour's Drawing for One Hour's Knotting, which are on permanent display in the Eolas Building, Maynooth University. 
Running time: 18:06
___________________________________________________________________________
In Basil Al-Rawi's film piece The Salmon Leapt Toward Babel, we see a weaving of memory and place, a crossover of languages, the threads have been loosened to allow us bear witness to the formation of identity.  Basil is an Irish-Iraqi multidisciplinary artist whose practice is concerned with the landscapes of memory, identity, politics, and mediated reality. He explores the potential of recomposing archival material to form virtual bonds with the past and create expanded photographic moments. The Salmon Leapt Toward Babel is drawn from the Irish name of Al-Rawi's hometown of Leixlip (Ireland), which translates to 'The Leap of the Salmon'. Every year, salmon battle against the current to swim upstream to spawn at their birthplace. This film combines archive photographs taken by Al-Rawi as a child in Jordan, with 8mm and 16mm film footage from Leixlip. Using vignettes of memories voiced by Al-Rawi in Irish and Arabic which speak of half-remembered moments, the film explores memory, displacement, and identity.
Running time: 11:45
___________________________________________________________________________
Niamh Coffey's tufted textile works explore the relationship between queer ecology and Irish folklore. In these works, images of metamorphosis in nature taken from Irish folktales are re-assembled and queered into new, absurd cyclical scenes with their own internal logic. They offer an invitation to imagine new ways of interacting with and existing with care within the larger matrix of nature and the earth.  The concept of queer ecology, asks us to abandon ideas of human exceptionalism and anthropomorphism and instead ask us to see humans as part of a complex and interwoven system, whose patterns and processes are different from our own. The works included in this exhibition depict interlocking systems, where humans and non-humans generate new and queer connections. Creatures and forms of flesh, fur, fungus, flower and feather mingle and merge and begin to exhibit peculiar actions, establish unusual habits and develop some symbiotic relationships.
___________________________________________________________________________
Scoib Display, Woven tapestry and live weaving of traditional scoib (basket) by Kathleen McCormick using her own homegrown willow. (Sciobs were traditionally used in many parts of Ireland to strain the cooked potatoes. The potatoes were tipped into the basket which was then placed back over the pot to keep the food warm.  The whole family sat around the vessel and ate out of it communally. Sometimes there was no table and people sat upon the floor and the basket functioned as the table also.)
___________________________________________________________________________
Naimot Ramoni – Culture meets Modern
In Castledermot-based Naimot Ramoni's textiles we see a mesh of influences from Ibadan, Nigeria, where she's from, and Dublin where she graduated from NCAD's BA in Textile & Surface Design in 2023.  Working on an eight-shaft loom, she created her woven samples to have an Aso Oke* feel and look with influences from her own photography of the structures and colours of contemporary architecture in Dublin.  *Aso Oke (which means 'cloth from the hinterland') is traditionally worn for special occasions, hand-woven and made from locally grown cotton in the southwest of Nigeria. 
___________________________________________________________________________
Future Tapestry, is a virtual reality-based art experience exploring the history and contemporary currency of Irish wool production.  Directed and produced by John Conway and written by Aisling Byrne, with visuals by NOHO Dublin.  Commissioned by Kildare County Council Library Service, Climate Action and Age Friendly Co-ordinators and funded by Creative Ireland through the Creativity in Older Age Scheme.
Running time: 5:00
_________________________________________________________________________
Unravelled by Rudi O Reilly Meehan, Data and Design 
Unravel (V)
Undo twisted, knitted or woven threads.

Investigate and solve or explain something complicated.
The town of Maynooth has been selected as a Decarbonising Zone (DZ) – an area where a range of climate mitigation, adaption and biodiversity measures will be used to achieve a reduction in 2018 baseline carbon emissions of 51% by 2030.
Unravelled is an interactive, exploratory piece in which the public can interact with carbon emissions data.  The piece allows users to untangle complicated topics by intuitively exploring carbon emissions data on a 75-inch interactive touchscreen and is intended to inform and drive decisions.
__________________________________________________________________________________